A long time ago, in a galaxy far far away, there was a necklace I wanted called Worgen Claw Necklace. It dropped off of Attumen, the first boss in Karazhan, and I wanted it because I was wearing one from Steamvaults or something.
Now I went to Karazhan a lot. Pretty much every week for several months. I loved that place, I never tired of it, not even long after I was Exalted with the Violet Eye. Still do love it, which I'm sure most of you know. But Worgen Claw Necklace never dropped. Not once.
Pretty soon, I didn't need it anymore. I had a necklace from Heroic Slave Pens and eventually I had a badge necklace. (Never got the Shattered Sun necklace because I was Scryer and the Scryer version sucked.) Still, it became the principle of the thing. I saw Attumen drop everything else. I even saw the mount once. But never Worgen Claw Necklace.
I got my tree druid to 70 and started doing Kara when I could. You may be thinking, "Ha! It probably dropped when you were on your druid!" But you would be wrong. My druid never saw it either. She's half way through Revered. I have never seen this thing drop.
And so a dream began to formulate in my head. Several months and an expansion later, Kill Bill-like, I knew what I had to do.

I must solo Attumen.

I must get my necklace.
After several weeks of putting it off because I was attached to all my pets, I finally let my wolf go so I could obtain a tenacity pet. Because I was impatient, I got a worm, because there are some that are level 80 by default.
I got myself a pet-tanky spec, spec'd my pet a pet-tanky spec, and bought a shiny Glyph of Mending. Pretty soon my Mend Pet was healing for 2200 health a tick. Then I got into a raid group and headed off– just my worm and I– to Medivh's tower.
The trash to Attumen is tricky. Pulls of two or three horses at a time, often with stable hands who heal and do fun things like that. So long as you know how to trap, pull and properly time your Feign Deaths, it's not difficult, but it is time consuming and there were a couple of close calls.
Finally I was standing in front of Midnight. I braced myself and sent in my pet.
For about ten seconds, all was going well; Mend Pet was keeping Nachi the worm up. Then Attumen came out. Thunderstomp picked up aggro on him and I soon discovered that poor Nachi couldn't dream of staving off both off with Mend Pet alone; Last Stand gave him a couple extra seconds but inevitably down he went.
I tried again and had a similar experience, and then trash began to respawn. See, let me tell you what the most frustrating thing about solo'ing Attumen is. It's that it takes about twenty minutes to clear the trash, but thirty minutes to respawn. So you essentially have a ten minute window to make attempts on Attumen before they start respawning mid-boss-fight and coming to pwn you. Yeah, it sucks.
Anyways, feeling a bit miffed, I went and tried a few other solo'y things. I gave Onyxia a shot and managed to get her down to 40% three different times, but each time it wound up being not my pet who died, but me. Between whelps, random fireballs, and crap like that, and being limited to your one token potion, bandages, and Lifeblood, I couldn't self-heal enough.
Then I went completely nuts and headed off to Molten Core. I quickly discovered that you can sneak past a good deal of the trash, and that which you can't sneak past you can dispose of fairly easily. As such I made attempts on a few different bosses, and again, each time I was faced with the issue of the boss having some gimmick that would destroy me long before my pet was in any danger. (Why hello, Living Bomb, yes, I hate you too.)
Finally I went off to give Attumen one last shot, having tweaked my pet's spec a little and having discovered some trick on YouTube where you could supposedly pull Midnight without pulling Attumen. Cleared the trash, made four unsuccessful attempts (maybe they hotfixed this?), and was more than willing to make more attempts but, you guessed it… trash respawns.
So I ended that little experiment and found myself wondering if it's even possible for a hunter to solo Attumen without exploits or two pieces of T5.
Then I had another crazy thought. Turtles have a special move called Shell Shield. I found myself wondering if maybe, with a very well timed Shell Shield and Last Stand, and a "burn 'em down quick so they merge" technique… it might be possible.
And so, after bidding farewell to my worm… this is my new turtle (or as my inner pet store geek insists on calling him, tortoise). His name is Bourne which is short for Bourne Again Shell because I am a nerd.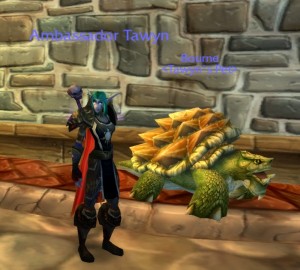 Now I've just got to begin the process of leveling him up to 80 from 75.
I'll be back, Attumen… you can't sit on that necklace forever!