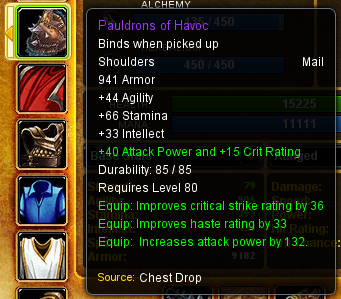 They say every piece of loot has a story behind it, whether it be an exciting tale or a more mundane one. Let me tell you my latest story then…
I am sure most of you know by now that due to scheduling difficulties, I PuG a good portion of my raids. And PuGs are like that proverbial box of chocolates– you never quite know what you are going to get.
So I was sitting around in LFG last night, watching with a rather unamused expression as nobody seemed to be running Naxx. Finally, after several long minutes of running in circles around Stormwind, a glimmer of hope: "LF1DPS for a partially-cleared Naxx."
Now one of the side effects of my PuGging tendencies is that I have seen most of the starter bosses of Naxx a dozen times, it's just the last few that I have yet to see. (In my experience, the main thing that prevents most PuGs from getting to those last bosses isn't so much issues with the group performance, so much as people having to leave and constantly having to stop and find more people, which drags raids on for far too long and makes them end early.) Anyways, I was 100% okay with not downing all the bosses as long as there was a small chance I would maybe get to see the bosses I've yet to see, so I tossed the person a quick whisper, and after being informed "Yay, you win!" I was invited to the raid.
They summoned me in. Right in front of Four Horsemen. Not a problem, Four Horsemen is one of those fights I have pretty much nailed by now in terms of strategy and I actually rather enjoy the fight. I looked around at the people I was raiding with, almost all of them were in the same guild. They had a camaraderie to them and seemed to just be having a good old time. Good, gooood, I thought. Shouldn't be too painful.
The raid leader began explaining the fight via a strategy that sounded unusual to me, but I was up for it. We got into position, and pulled.
…I'm really not sure how to describe how bad the subsequent wipes were. They were racecars careening off of tracks and exploding in a mess of fire and metal on a wall somewhere. They were people slipping at the top of the stairs while holding a bowl of soup and tumbling all the way down, making a huge mess. They were wipes on a fantastic scale. Every time we started again, we would try a different strategy, eventually settling on "burn down Thane".
…have you ever seen the debuff on one of the Four Horsemen go up to six? Yeah, I didn't know it could get that high either.
I pulled up Recount for the first time after the third or fourth wipe. I was the only member of the raid doing above 2k DPS. My pet alone was outDPSing someone. And that was when I looked around at these people I was raiding with. They were in blues and maybe a heroic epic or two. This was their first night in Naxxramas. And yet there was something about them, something that I couldn't pin down…
We tried again, and again. As always, everything ended up in some sort of spectacular wipefest. We had to have a repair break and after yet another wipe the resto druid, who was not in the guild and had been pulled in as a PuG not long after me, began to despair over Ventrilo. "I get online and hope to get into a Naxx group tonight and we're not even going to down Four Horsemen!" It wasn't even a complaint or an insult or anything, just a pure sheer cry of sadness and frustration. Inwardly I found myself agreeing with him. And yet…
I thought I saw something out of the corner of my mind's eye. My subconscious looked up and saw him there; the Deity of WoW Karma, a creature just as powerful and pervasive in this World of Warcraft as Elune, if not moreso. He was giggling at me, and there in my mind he painted a picture…
…a picture of a young group of friends all in one guild, sitting in Deadwind Pass trying to fill up our first ever Karazhan group. All of us excited and so full of hope. We pulled in a few unsuspecting PuGs, and told them right before we went in that we'd never done this before. We downed Attumen, we downed Moroes, and then we hit this wall with Maiden. Couldn't down her. Pulled the plug on the raid having only downed two bosses. One of the PuGs was really frustrated with us. "You're all terrible, you'll never down Maiden!"
And yet we did, the next time we went. And every time we went we got a little farther and every time we went we had one or two PuGs with us.
There were the two people who did Curator with us. We had no idea what we were doing. Sparks were everywhere and we wiped and wiped and wiped. Patiently those two people told us what to do, over and over, until finally we downed that thing.
There was the priest who fell in with our little group and raided with us solidly for about a month, coaching us through Shade of Aran and Illhoof before one day saying goodbye to us and going off to make his own raiding group.
WoW Karma showed me all of this; the memories vivid in my mind. Suddenly a voice from Ventrilo shook me out of my reverie. One of the people in this guild.
"Don't say that. We will down Four Horsemen. We will," she said, her voice firm.
There was no room in that voice for uncertainty. I believed her.
We marched back in there for the… seventh, eighth?… time, and we did it. I don't know how. I don't know why. Maybe it's because that's how many people in the group hadn't done it yet and we had to do it that many times for everyone to finally get it (for those of you who don't know, Naxx bosses are largely "gimmick-based"… most of them have some trick to them that you have to "get".) It was long and it was strenuous and there were six debuffs on us at one or two points but somehow the tanks tanked through it and the healers healed through it and the DPS was DPS'ing their quest-blue-clad hearts out and I felt like Wash and I had never before DPS'd harder in our life trying to pick up the slack, and we downed Four Horsemen.
We opened the chest; out tumbled some shoulders for me. I won the roll for them with some exorbitantly high number that I didn't need to roll because I was the only one who wanted them anyway, which meant that I had officially wasted my one good roll for the week. I made a comment on this and was met with good-natured giggles from Vent.
This was followed by wiping on gargoyles and the longest Noth the Plaguebringer battle of all time, and then everyone conveniently deciding to be tired and ready to call it when we were at Heigan's doorstep (a tad disappointing, I had FRAPS ready and everything so I could try to make a "Teach Your Pet To Dance" movie.)
And so I sat there with sort of a confused look on my face, clutching my new shoulders and my lone two badges, still a little bewildered at what had just transpired.
"I've added you to my friends' list," said one of the guild members. One who had giggled at my terribly dorky jokes I tend to make in raids. I glanced up at WoW Karma. He nodded at me. I nodded back.
"Thank you," I said, "And thanks for the group!" and then I took my two badges and my clear conscience, and hearthstoned away.