So I have a paladin who I've been spending a little time on each day, and I have a resto druid who randomly wound up with her very first old-school Badge of Justice the other day (Yes, it is apparently quite possible for a level 65 tree to heal a level 80 tankadin through level 70 heroics), but you gotta understand something. Namely, you can take the girl outta the hunter but you can't take the hunter outta the girl. Or something along those lines.
Heck, scratch the girl part, you can be a hot blood elf guy too: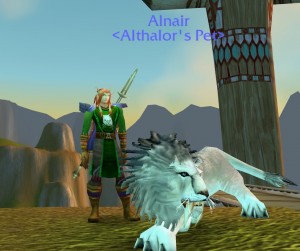 Althalor is now level 40. For the uninitiated, that means I now have a level 80 hunter, a level 70 hunter, and a level 40 hunter. And once you toss all my dozens of sub-20 hunters into the mix, I've clocked well over 200 collective levels in this class. Probably closer to 250.
Yes, yes, I know. But hey, I can't help myself. Once you go pewpew, you can't go… uh… I'll get back to you on that one.
So yes, I am here to ease the panic that sometimes occurs on blogs, comments, e-mails, and the WoW Twitterati (term coined by one Matticus) when I briefly dip into a non-hunter interlude. Be not afraid– Pike is a hunter, and this is a hunter blog. One lil' treedrood and one lil' baby protadin are no match for the Hunter Mafia. I mean, I'm no good at being noble, but it doesn't take much to see that the leveling of two little alts doesn't amount to a hill of beans in this crazy World of Warcraft.
Eh? Ehhh? See what I did there?
/cough
Okay, I'll stop now. >.>
(P.S. Okay, so maybe not that many people are panicking. But I can pretend, at least, to make it more dramatic.)