After much hem'ing and haw'ing…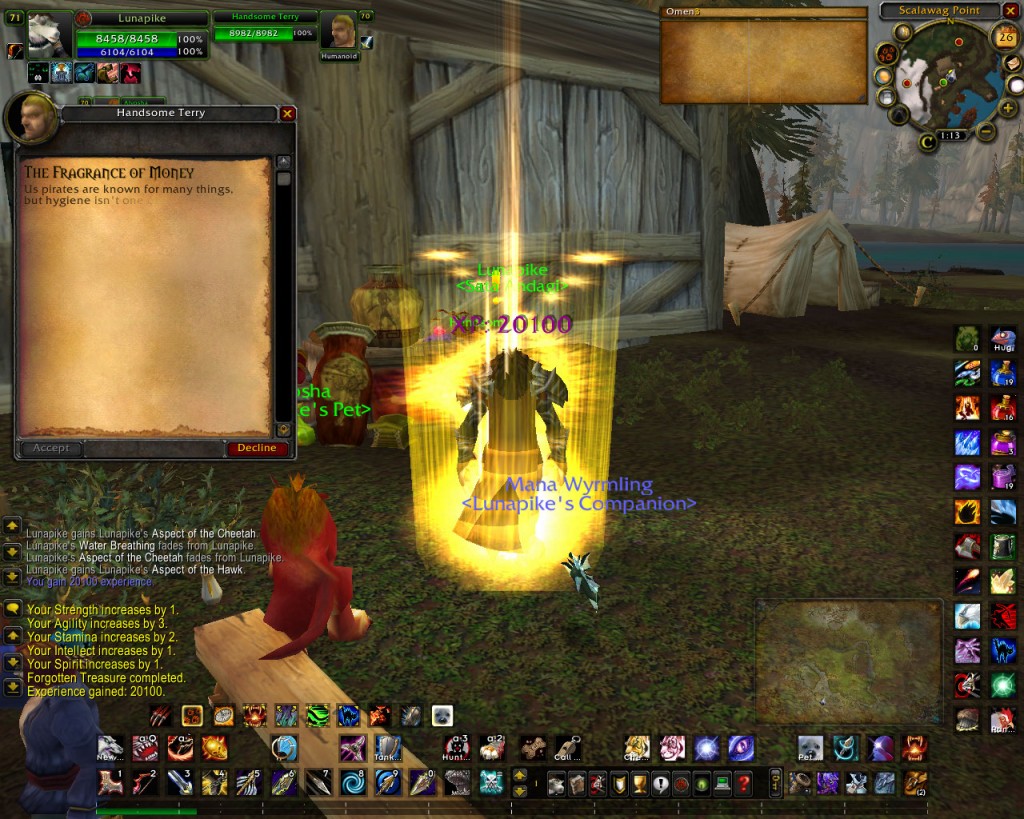 …Lunapike starts to work her way up the leveling ladder!
Now, I'm one of those psychos that actually really enjoys leveling. I love the quests and the lore and the world and seeing it all through the eyes of a character with a different personality than last time. Why do you think I have so many alts that are hunters and druids? Because my strain of altism is unique in that I enjoy the questing more than the "learning to play a completely new class" thing. For the most part I stick to what I know I'm already comfortable with and enjoy, and do more leveling. (And tame more pets, my other favorite part of the game).
Lunapike's spec is a little interesting, so I'll preemptively explain before anyone asks (cause I have been asked about spec discrepancies between my characters before)… her spec is meant firstly for making her pet more of a tank for more efficient leveling, and secondly for the fact that she's on an RP-PvP server and may have to scuffle every once and a while. Those two types of specs seem to coincide quite well if you are a Beast Master hunter, just nab all the talents like Endurance Training, Thick Hide, and Spirit Bond. I'll probably respec her at 80 but for now, this is what she is, and it works well.
I have no idea how fast or slow Lunapike's journey to 80 is gonna be or whether she'll even be my second 80 (Tamaryn is closing in fast in a surprise run from the outside! And down the stretch they come! Now taking bets!) but I'm gonna enjoy it. I was always disappointed that I got her to 70 a little too late last time and never even got her into Karazhan because WotLK came out before I could finish getting her geared up for it. I want to make sure that doesn't happen this time; my taureness is at least gonna see Naxx, and hopefully a lot more too. Because I maintain my stance that tauren females* are the best playable models in the game and deserve to be seen in all that epic armor. *nods*
—
* Female tauren hunter is probably my favorite gender/race/class combination in all of WoW. I just love it. And it makes me really happy that there are a pretty decent number of us in the blog world!