So this past weekend I hit a milestone as I successfully managed to get a third character to level 50.
Wanna see a picture?
…
…
…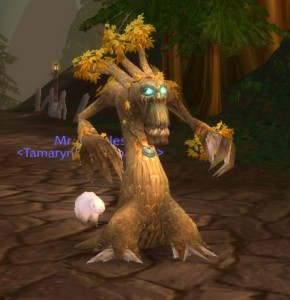 Oh snap! Hide your children! Shelter your weak, your young and your old! Houston, we have a problem! Pike has a level 50 character and it's not a hunter!
What this unholy union of hunter and druid will bring in the future, I can't say. But you've at least got to tip your hat to a class that can almost manage to keep my attention to the extent that hunters do. (Keyword: almost).
As for the inevitable "Why are you leveling resto you wacko" questions that I can already forsee in my crystal ball, I have four answers for you:
1.) I am doing a lot of instance/group stuff
2.) I never die
3.) Come on… you get to be a tree. Clearly the most fun of all druid forms. I run around Stormwind in Tree Form instead of Travel Form.
4.) Honestly, when I am solo'ing… tossing on some feral gear, piling on the massive resto HoTs, and going into cat/bear as needed is surprisingly effective. Not quite as fast as moonkin, maybe. And certainly not as fast as a hunter. But who cares about "fast" so long as things are working well and you're having fun?
Well, that is my obligatory non-hunter post of the year. Hope you non-hunters that visit my site (are you out there?) were entertained! In closing, I would like to dedicate this post to BRK and BBB, both of whom are bloggers that I <3 muchly, and who have this frightening tendency to conspire together to bring Massive Quantities of Sustained Ranged Fo'Shizzle to the Druidic and Hunterrific masses. We will return you to your regularly scheduled hunter broadcast program tomorrow. Until then, happy hunting and tree-hugging.